Looking At The Timberwolves As A Thaddeus Young Trade Partner
Updated: Wednesday, July 30, 2014 12:43 PM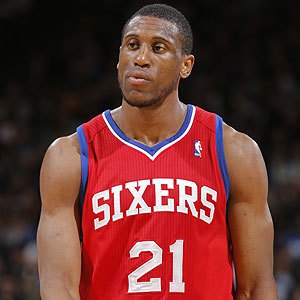 The Sixers have long been mentioned as a potential suitor to the seemingly inevitable Kevin Love trade, and due to their cap space and willingness to absorb salary in return for assets will be rumored as a potential suitor until that trade is mercifully completed¹
It's now being reported that not only could the Sixers help facilitate a Kevin Love to Cleveland trade, but that the Timberwovles are specifically targeting Sixers forward Thaddeus Young to replace the outbound Love.
This combination of the Sixers being able to facilitate a deal financially as well as having an asset that Minnesota is targeting is a pretty good combination for Sam Hinkie to generate leverage.  So what can Minnesota offer the Sixers?
Minnesota's Future Draft Pick Situation
One of the assets that Sam Hinkie seems to consistently be targeting are future draft picks.  Unfortunately for the Sixers, Minnesota owes their 2015 1st round draft pick to Phoenix2.  The pick is top 12 protected in 2015 and 2016, and, if not conveyed by then, turns into a 2016 2nd round pick and a 2017 2nd round pick.  Odds are that Minnesota ends up not giving away this first round pick because of the protections, but because there's the possibility that they will, and because they do not have any 1st round picks coming their way, Minnesota cannot trade a first round pick until at least 20173.  Not that a pick 3+ years down the road is something that Sam Hinkie isn't willing to wait for, but it's not something to get overly excited about at this stage of the game, unless there are virtually no protections on it from Minnesota's side.
The 2nd round picks that Minnesota has aren't all that much more interesting, as they owe their 2015 second round draft pick to Houston.  They do have an incoming 2015 second round pick from Denver, as well as an incoming 2017 second from New Orleans, but they both project to be much later in the draft than their own pick would have been.
Cleveland's Future Draft Pick Situation
The more interesting picks would be the ones coming from Cleveland.  Cleveland is currently set to trade its 2016 first round pick to Boston (top 10 protected) in the Jarrett Jack salary dump from earlier this offseason.  However, Cleveland is set to have two 2015 1st round picks: Miami's 2015 first rounder (top 10 protected), as well as the less-favorable pick between Cleveland and Chicago's 2015 1st round picks.  Either of these could be had in a trade.
The most enticing pick, however, might be the pick that Cleveland is owed from Memphis.  The pick has weird protections: it is not conveyed if it falls in the top 5 OR between 15 and 30 in 2015 or 2016, but becomes only top 5 protected in 2017 and 2018, before finally being fully unprotected in 2019.
This as a smart move on Cleveland's part, as the second half of the protections (protected 15-30 for the next two years) was an effort to try to increase the chances that the pick becomes a lottery pick.  Memphis declined slightly last year, from 56-26 to 50-32, coming in as the 7th seed in a tough Western Conference.  It's no guarantee that the Grizzlies will make the playoffs both of the next two seasons.  Combine that with little chance of them being bad and falling into the top 5, and that's a potential lottery pick that could be available.
However, it's the chance that Memphis does make the playoffs the next two years that really becomes interesting, as Zach Randolph enters his mid-thirties and the chance that a top 10 pick becomes a realistic scenario.  If you can delay the gratification (and Sam Hinkie has shown that he is willing to do so), there's a potentially very attractive pick available in this three team deal.
Young players of interest
With Minnesota's interest in obtaining Young, their willingness to include a younger player may be spiked.  What do they have to offer?
The two most interesting names are their two most recent 1st round draft picks: Gorgui Dieng and Zach LaVine, drafted 21st in 2013 and 13th in 2014,  respectively.  Dieng averaged an impressive 12.2 points, 12.0 rebounds, and 1.7 blocks in 15 starts late in the season for the Wolves. LaVine is one of the more athletic wing prospects to come out in some time.  While I'm not necessarily his biggest fan, he's the kind of long, athletic wing prospect that I could see Sam Hinkie targeting as a guy who could eventually out-shoot his expected contribution, if he can ever figure out the game.  I would be incredibly surprised if either of these guys are moved in the trade, though, as they're the kind of young assets Minnesota is going to need in the long rebuild they're about to enter.
The other names to keep an eye on are Shabazz Muhammad, Alexey Shved, and Chase Budinger.  Budinger is entering the second year of a 3 year contract4.  While he's unlikely to have too much untapped potential, he's useful and, at $5 million per year, on a relatively friendly contract.  Shved, at 25, has thus far struggled to become an efficient option on offense, but he has the kind of size, fluidity, and feel for the game that Sam Hinkie could have an interest in, and would fit right in with the Sixers other perimeter threats who aren't much of a threat from the perimeter.  Muhammad, who slid down the first round in the 2013 draft all the way to 14th, struggled during his rookie season and played only 290 total minutes.  It's hard to really see Muhammad as a Sam Hinkie type of player, with his defensive indifference, poor steal rate, mid-range based game, but he has only one guaranteed year left on his deal5, and it's possible Hinkie could take him on as a talented reclamation project, but that would be as a throw-in to the deal, not as a centerpiece.
For the most part I haven't touched on the Cavs players, mostly in the interest of brevity, and because those have been talked about extensively over the past few weeks.  This article was mostly centered around the new information, which was the Wolves interest in Thaddeus Young.  That being said, some of the Cavs players (Dion Waiters, mostly) are obviously in play.  Anthony Bennett has been rumored as well, but I would guess he is more likely to head to Minnesota.  That being said, the incredibly disappointed (but looking much better in summer league) former #1 overall pick is somebody to keep an eye on.
What else would the Sixers have to take back?
With the Wolves over the cap6, it's very likely that the Sixers would have to take back a less-than-desirable contract to help facilitate the deal.  From the Wolves side, that would likely be Kevin Martin, who has three years and roughly $21 million remaining, with the final season being a team option. Martin would provide the Sixers with an offensive option from the perimeter and plays the "3 point and at-the-rim" style of offense that Hinkie and Brown are likely to employ (he has shot 38.5% from three point range for his career and averaged 6.0 free throw attempts per game in just under 31 minutes), but Martin will turn 32 later this year, has struggled with injuries throughout his career, and as such isn't likely to be a long term piece for the teams future.  Ideally you wouldn't want him eating into the teams cap space, as the Sixers are likely to start looking to supplement their drafting with finding supporting pieces through free agency.  But taking back Martin's contract is likely the cost of doing business in this trade, and will allow the Sixers to raise their asking price, because not only are the Wolves getting a player they want (Thaddeus Young), but they're also shedding an undesirable contract (Martin).  Martin would at least provide a little bit of relief on the offensive end and allow Michael Carter-Williams to play a role that he's more likely to look to fill long term than being the top offensive option.
Outside of that, Minnesota's cap situation is fairly positive.  They could take back Alexey Shved, who is on the final year of his rookie deal at $3.2 million.  I talked about Shved briefly above, and his combination of inconsistency from the perimeter and struggles finishing around the hoop make it a little bit grim whether he'd ever really contribute enough offensively.  He is wonderfully creative off the pick and roll, which could help the Sixers ball movement some in the half-court.  If he could ever develop consistency as a jump shooter7 he could carve a roll for himself in the NBA, but that's an "if" at this point.
Summary
Assets available in a trade:
"First available" (2017) Minnesota 1st round draft pick
2015 Miami first round pick (top 10 protected)
"Less favorable" 2015 1st round pick between Cleveland and Chicago
2015 Memphis first round pick (protected 1-5, 15-30 in 2015 & 2016, protected 1-5 in 2017 & 2018, unprotected in 2019)
Young players like Gorgui Dieng, Zach LaVine, Alexey Shved, Chase Budinger, and Shabazz Muhammad.
In my opinion, the Memphis pick, as well as a future Minnesota pick (depending on the protections) are the two most intriguing assets that might actually be viable for the Sixers to obtain, although it would be difficult for me to see Minnesota giving up that high of a pick, even far down the line, in such a trade.
I haven't mentioned Andrew Wiggins up to this point because I don't think there's any real chance the Sixers have in prying him away from Minnesota.  He is Minnesota's prize in giving up Kevin Love, and nothing the Sixers have to offer can get him away from them, in my opinion.  Of course, I'd love to be wrong.
Unfortunately, because of the Andrew Wiggins signing, this is a rumor/situation that will drag one for quite a bit longer.
Footnotes:
1With Cleveland signing Andrew Wiggins, the trade (assuming Andrew Wiggins is involved in it) cannot be traded until 30 days have passed.  Wiggins signed on July 24th, meaning the earliest that he could be traded is August 23rd.  It also means that when Wiggins is traded his outgoing salary will count for roughly $5.5 million, assuming he gets 120% of the rookie scale contract for the #1 pick.  Had he previously been traded they would have been trading his draft rights, and his (expected) salary would not have been included in matching salaries for the trade.
2The Stepien rule dictates that a team can't fail to have a first round pick in back to back years. Two key points on this rule: 1) It only deals with future picks owed, not the past. Meaning if a team didn't have a pick in the 2014 draft, that's irrelevant. They can actually not have a pick in 2014 and still trade their 2015 pick, it's just they can't fail to have a pick in the next two upcoming drafts. 2) It only specifies not having a pick, not necessarily not having their own pick. So if a team, say Minnesota, already is set to pay out their 2015 pick. They can trade their 2016 pick as well, as long as they acquire an additional first round pick in 2015 or 2016.
3Unless Minnesota acquires another pick in the deal. Remember, the Stepien rule just specifies that they cannot fail to have first round picks in consecutive years. If they acquire another one, they can trade their own pick 2 years in a row, although the Sixers would still have to wait until the debt to Phoenix has been paid, meaning the Sixers would get Minnesota's first available pick.
42015-16, the final season in Budinger's contract, is a player option.
5For rookie scale (first round pick) contracts, the first two seasons are guaranteed, then season three and four are team options. Muhammad is entering his second season, and the option for his third season would have to be picked up by the end of October, similar to the situation the Sixers were in when they acquired Royce White last summer.
6Even though the Sixers are under the cap, the Wolves are not, so they have to send out money in order to take on Thad's contract. See Larry Coon's excellent cbafaq.com for more information.
7So far Shved has shot 29.5% from nba three point range on 390 attempts in his nba career. He shot 23% overall on jump shots last season, 27.7% on catch and shoots jumpers, a horrible 16.2% on jump shots off the dribble, and 22.6% when he shoots off the pick and roll. All are well below average.