The Sixers Are Building Through The Draft, Not Tanking, And It Really Isn't Revolutionary
Updated: Tuesday, March 10, 2015 10:42 PM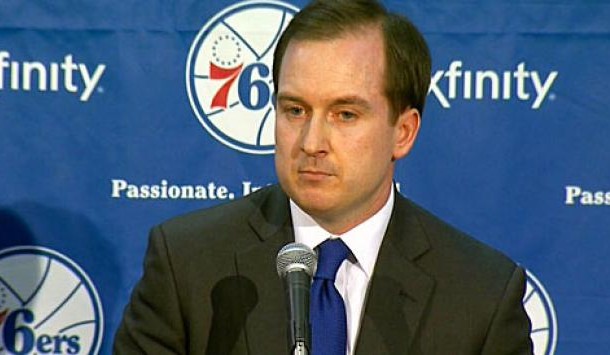 A common criticism of Sam Hinkie's plan to rebuild the Philadelphia 76ers is that tanking hasn't worked.
The first, and most natural, defense against that is to point out the number of good teams in the league who have tanked. So you respond that the Warriors tanked hard in 2011-12 to keep their draft pick, which they would have lost if it fell out of the top 7 of the draft.
Well, yeah. But what about championships?
You could go all the way back to the 80's, when the Houston Rockets and the Chicago Bulls tanked hard in a race to the top of the 1984 draft, tanking so egregious that it caused the NBA to institute a lottery to try to prevent repeat efforts in the future. My memory is hazy, but Chicago and Houston had some level of success to show for their efforts.
You could go for a more recent example and dissect San Antonio's motives after David Robinson went down . I know it was short-lived, but Tim Duncan and the Spurs did have some moderate success as well.
Another relatively recent example, even if slightly more unconventional, was Boston during the Greg Oden draft. Boston tanked hard enough that their own players openly questioned the team's motives. Not only were the motives of the front office questioned, but players were openly questioning whether Doc Rivers' rotations were based upon a desire to lose.
Their efforts didn't result in Greg Oden, but the 5th picked that their losses did net them was eventually flipped for Ray Allen, which then caused Kevin Garnett to reconsider his willingness to go to Boston. They then immediately won a championship as a direct result of their intentional losing.
Okay, okay, but what about a multi-year tank? Where's the evidence that will work?
Oklahoma City is the obvious response to that. The Sonics, as they were known at the time, had an aging, mediocre, expensive team in desperate need of a rebuild. They shipped off aging Ray Allen and jettisoned overpriced Rashard Lewis and kicked off an era where they didn't care about wins and losses, but rather focused on talent acquisition and player development. This strategy continued even after they drafted franchise cornerstone Kevin Durant, and over a 3 year period they drafted not only Durant but Russell Westbrook, James Harden, and Serge Ibaka as well.
Perhaps more egregious, or ingenious, depending on your point of view, was how they constructed their roster while developing their young talent. The Thunder intentionally avoided loading up the roster with either veterans who could teach these franchise cornerstones the lay of the land, and also help them compete in the short term, but in return take away valuable minutes from the developing Durant and Westbrook.
During Russell Westbrook's rookie season, the Thunder's top 3 players, in terms of minutes played, were under 22 years of age, and 5 of their top 7 were 25 years of age or less. They went a combined 43-121 during Durant's first two seasons,
Russell Westbrook was put in an impossibly tough role out of the gate, and he struggled as a result. He shot only 39% from the field and led the league in turnovers during his rookie season and the Thunder, despite Kevin Durant averaging 25 points per night and already emerging as one of the best scorers in the league, struggled to turn that individual talent into a competitive basketball team.
But their young studs got time and, despite consistently losing, that playing time and experience escalated their development from raw basketball talent to NBA winners.
Okay, fine. But not only has Oklahoma City failed to win a championship, you say, but they're also the edge case, the ray of light in an otherwise dim collection of teams who never climb out of the NBA's basement. Even if you want to discount the 14 combined championships that were a direct result of tanking that I listed above and say they're not applicable because they weren't cast in the exact same mold as the Sixers approach, there are a couple of problems with using the lack of championships created through the efforts of multi-year tanking to prove that tanking doesn't work.
First, it's impossible to determine who "tanked" for multiple years due to a planned strategy and those who did it through organizational incompetence. That distinction is key. Any plan, regardless of the path, will fail if continually poor decisions are made. And we simply do not have enough data to truly determine whether Sam Hinkie is a good decision maker or not. We have hints, but we're years away from knowing for sure. So saying that a plan is doomed because Hinkie will make the wrong decisions is not a perspective unique to tanking, but one doubters would be saying regardless of his strategy.
The second problem is that, when you take those who remained at the top of the lottery through incompetence out of the equation, the sample size of teams actually trying to remain at the top of the draft to build the foundation of their team is incredibly small. So yes, there may not have been a champion built the way that Sam Hinkie is building the Sixers, but that more speaks to the unique opportunity and leeway that Hinkie has more than it does the soundness of the plan.
And focusing on "tanking" really muddles up what we're actually talking about, which is that the Sixers believe building through the draft is necessary. Tanking is simply an effort to maximize the chances of moving on from this stage by hitting big in the draft.
And, if you look at all of the great teams in the league, they all got their start towards relevance in the draft. In order to get a top-20 player through trade or free agency, you need to already have a top-20 player on your roster to make yourself a destination. The NBA has gone through great lengths to make simply having cap space not enough to acquire your first foundational piece. Due to restricted free agency, the soft salary cap, and limiting maximum contracts, superstars coming off of their rookie contracts and entering their prime do not leave to go to teams that don't have a superstar already in place.
The money the Sixers can offer a superstar is not unique, and the destination the Sixers can offer is simply not good enough. In order to become an attractive destination, the Sixers need money and a great, home-grown player.
| Team | Record | 1st "great" player | Date Acquired | How |
| --- | --- | --- | --- | --- |
| Golden State | 50-12 | Stephen Curry | 2009 Draft | Drafted 7th |
| Atlanta | 50-13 | Al Horford | 2007 Draft | Drafted 3rd |
| Memphis | 45-18 | Mike Conley | 2007 Draft | Drafted 4th |
| Houston | 43-20 | James Harden | Oct 2012 | Trade |
| Portland | 41-20 | LaMarcus Aldridge | 2006 Draft | Drafted 2nd |
| L.A. Clippers | 41-23 | Blake Griffin | 2009 Draft | Drafted 1st |
| Dallas | 41-24 | Dirk Nowitzki* | 1998 Draft | Drafted 9th |
| San Antonio | 39-23 | Tim Duncan | 1997 Draft | Drafted 1st |
| Cleveland | 40-25 | Kyrie Irving | 2011 Draft | Drafted 1st |
| Chicago | 39-26 | Derrick Rose | 2008 Draft | Drafted 1st |
(If you want, you can add the Thunder to this list, as they'd usually be among the best teams in the league if they were even marginally healthy. They got their start by drafting Kevin Durant 2nd overall in 2007).
This isn't necessarily a list of the team's best players, but the first great player that they obtained, the player that then made them a relevant destination that established stars would be willing to join.
That's also not to say that hitting in the draft is all that's needed to build a contender, or that the entire team can and will be built through the draft. In each case, there was more work to be done, whether that be hitting on more draft picks (OKC, Golden State, San Antonio, Chicago Bulls), free agency signings (Atlanta, Houston), trades (Memphis, Clippers), or, more often than not, some combination of all of the above. It just means that the first step, largely due to league rules, more often than not happens in the draft.
If you want, you can go through and look at the last 10 NBA champions and notice a similar trend:
| Year | Team | 1st "great" player | Date Acquired | How |
| --- | --- | --- | --- | --- |
| 2014 | Spurs | Tim Duncan | 1997 Draft | Drafted 1st |
| 2013 | Heat | Dwyane Wade | 2003 Draft | Drafted 5th |
| 2012 | Heat | Dwyane Wade | 2003 Draft | Drafted 5th |
| 2011 | Mavs | Dirk Nowitzki* | 1998 Draft | Drafted 9th |
| 2010 | Lakers | Kobe Bryant | 1996 Draft | Draft Night Trade (13th pick) |
| 2009 | Lakers | Kobe Bryant | 2009 Draft | Draft Night Trade (13th pick) |
| 2008 | Celtics | Paul Pierce | 1998 Draft | Drafted 10th |
| 2007 | Spurs | Tim Duncan | 1997 Draft | Drafted 1st |
| 2006 | Heat | Dwyane Wade | 2003 Draft | Drafted 5th |
| 2005 | Spurs | Tim Duncan | 1997 Draft | Drafted 1st |
Or, take a look at the last 10 teams to win 55+ games:
| Year | Team | Record | 1st "great" player | Date Acquired | How |
| --- | --- | --- | --- | --- | --- |
| 2013-14 | Spurs | 62-20 | Tim Duncan | 1997 Draft | Drafted 1st |
| 2013-14 | Thunder | 59-23 | Kevin Durant | 2007 Draft | Drafted 2nd |
| 2012-13 | Heat | 66-16 | Dwyane Wade | 2003 Draft | Drafted 5th |
| 2012-13 | Thunder | 60-22 | Kevin Durant | 2007 Draft | Drafted 2nd |
| 2012-13 | Spurs | 58-24 | Tim Duncan | 1997 Draft | Drafted 1st |
| 2010-11 | Bulls | 62-20 | Derrick Rose | 2008 Draft | Drafted 1st |
| 2010-11 | Spurs | 61-21 | Tim Duncan | 1997 Draft | Drafted 1st |
| 2010-11 | Heat | 58-24 | Dwyane Wade | 2003 Draft | Drafted 5th |
| 2009-10 | Cavs | 61-21 | LeBron James | 2003 Draft | Drafted 1st |
| 2009-10 | Magic | 59-23 | Dwight Howard | 2004 Draft | Drafted 1st |
*Note: Dirk Nowitzki was acquired in a draft day trade, but the Mavs traded their #6 overall pick for the #9 overall pick, which they used to select Nowitzki
Once you really start to look into it, the question quickly shifts from "Can tanking work?" to "Is hitting a home run in the draft necessary?" And the answer is pretty clear: If you want to become relevant in the NBA, the first step is almost universally to acquire a great player in the draft.
Once you arrive at that conclusion, what Sam Hinkie and the Sixers are doing makes sense. And once you buy into how necessary the draft is to kickstart a legitimate rebuild, maximizing the chances that you'll hit in the draft is the next logical step.
Sure, it's not necessary to be at the top of the draft in order to get a superstar, but having your selection of as many prospects as possible is inherently advantageous. If you believe in your ability to scout, if you believe in your ability to find talent in the draft, then you want to limit the role that luck plays in the equation. The way you limit luck is to draft as close to the top as possible, so you're not left in the situation where you've successfully identified the best player, the one player who could truly turn a franchise around, only to have him be picked before you have a chance to select him yourself. Sure, he *might* fall down to you in the draft, but *might* is less than optimal. Drafting at the top presents decision makers with a better opportunity, and better odds of success.
And perhaps a multi-year tank isn't necessary, and the first player that you draft will turn out to be a (healthy) superstar. But, by acknowledging the inherently uncertain nature of the NBA draft, while not changing how much of a necessity success in the draft is, limiting the risk of any one selection by having numerous high-quality selections makes sense. Best not to put all of your eggs in one basket. Risk diversification.
And the reward is huge. The NBA has crafted their free agency rules not just to make it easier for teams to retain their drafted stars long term, but also to make it easier to have the resources to add complementary talent around them. Hit big in the draft and the NBA has a system set up where the rich get richer.
That's why what Sam Hinkie and the Sixers are doing isn't really revolutionary, but evolutionary. Great teams have always been built through the draft, Hinkie has just recognized this, cut out the pretense, and put the Sixers in a position to maximize the chances that they land the player in the draft that history has shown that they need, then give that player(s) the immensely valuable experience and playing time necessary to reach their potential.
It may work. It may not. The ascent from also-ran to title contender is fraught with land mines in the way, regardless of the method Sam Hinkie goes about rebuilding the team. Even smart decisions are going require equal amounts of luck and opportunity mixed in to reach their, and our, ultimate goal.
Because of how difficult it is to catapult to the top of the NBA's pecking order, some will view the Sixers plan as an unnecessary risk. If the reward isn't likely, the price becomes unbearable. However, many of the same rules that make it difficult for teams to enter the NBA's elite also make it possible to build a dynasty.
Do it right, hit at the top of the draft, and make smart decisions after that, and the NBA gives you every opportunity possible to remain at the top.
That's why when Sam Hinkie talks about wanting to build something truly special, he's not kidding. The NBA allows special. This is not the NFL, where every year mediocre teams rise to the top, and great times fall back to the pack. Special is possible in the NBA. It just usually comes on the heels of forgettable.
This is not about morals or ethics. Sam Hinkie is not trying to revolutionize the game, prove that he's the smartest man in the room, or extend his employment by making it impossible to gauge his progress. Nobody wants colossal failure on the first line of their resume. This is about the draft, about recognizing its importance in this phase of team building, and providing the best opportunity to hit in the draft by increasing both the quantity, and quality, of draft picks at his disposal.
It might not work, but if it does …