Concerns: Jahlil Okafor, Karl-Anthony Towns, and Kristaps Porzingis
Updated: Thursday, May 28, 2015 07:40 AM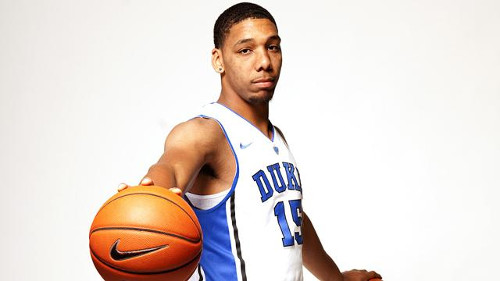 The NBA draft process is a fun pendulum of emotions.
Early on in the process you tend to focus on the skills and abilities that excite you, and every prospect looks great. As you get closer to the draft, and you've focused on warts and deficiencies for so long, it becomes easy to start to talk yourself out of pretty much everyone in the draft.
Even after admitting the natural bias in all of us I'm going to devote two columns to what scares me about some of the top prospects in the draft. Today we'll start with the big men the Sixers might take with their top pick. There will also be a column about what concerns me about the perimeter guys at the top of the draft.
This column has the chance to come off as negative, yet I generally like all of these players as prospects. Fear now, there will absolutely be follow-up columns on what I like about these guys as well to correct this injustice (injustise?).
But figuring out which of these weaknesses are real concerns and which are just noise is a very big part of hitting in the draft. Those GM's who can find out which of these are fatal flaws and which aren't, who can determine what can be realistically be expected to be improved upon and what can't, will have the most success on draft night.
Karl-Anthony Towns
Sure, Karl-Anthony Towns may not be the dynamic post scorer that Jahlil Okafor is, and maybe he never develops into a 22 point per game first option. But that's not really Towns' weakness. He'll likely be a good scorer in the NBA.
I have two bigger concerns with Towns: his penchant for committing fouls and his ability to move his feet laterally.
One of the problems that Kentucky's incredible depth was able to hide was Towns' fouls problems. At 5.6 fouls per 40 minutes Towns' committed fouls at an incredible rate. Whether that's giving up angles to his man coming off the pick and roll, jumping the ball handler too aggressively, or biting on pump fakes, Towns simply needs to improve his recognition and cut down on his fouls. This isn't an uncommon problem for young shot blockers, though (Joel Embiid was at 5.8 per 40 minutes at Kansas), and it's something that I'm fairly confident will improve over time.
(Note: this is one area of the game where Nerlens Noel is special. Blocking 5.4 shots per 40 minutes, while only committing 3.2 fouls in that span, during his freshman season at Kentucky is an absurd ratio for a young, shot blocking big man).
The second, and bigger, concern is Towns' lateral mobility. Towns is significantly better in that regard than Okafor, and because of that we've kind of glossed over the potential weakness, especially as Sixers fans looking to find a fit next to Joel Embiid. We've sort of had the mindset that Towns is a much better pick and roll defender than Okafor, ergo it's not a concern.
But it kind of is. It's not that Towns is awful in that regard, but he's not great, either. While Towns is an incredible overall defender there will be concern pushing him away from the hoop, and you'd get the most out of him by keeping him closer to the basket.
But Embiid isn't going to be playing 100% of the time, so you'll be able to stagger your lineup a bit to have Towns playing the 5 some as well. With how well Towns has the potential to fit with Embiid on the offensive side, and how much he can contribute defensively in non-pick and roll situations, these are all relatively minor concerns, which is why I think Towns is the best prospect in this draft.
Jahlil Okafor
This one is probably the most obvious, as his fit with the Sixers has been questioned almost since day 1.
The first concern is Okafor's jump shot. Okafor shot just 51% from the free throw line, a problem which got worse as the year went on (41.5% in February and 41.7% in March). In game action he attempted just 5 jump shots all year. Five.
Now, some would argue that the potential Joel Embiid has shown in his jump shot minimizes some of this concern, and it's not entirely inaccurate. Ideally you would want Joel Embiid down on the block, as turning him into an 18 foot jump shooter minimizes his effectiveness. But if you're doing it to make way for an equally talented post scorer the loss is bearable.
But ideally you'd want both players proficient from 18′ so that Brown can pick which matchup he wants to exploit. If Embiid is going to struggle to exploit his matchups when he's paired with Okafor because the lane is crowded, that's far from optimal.
That's not to say there's no hope, especially with the emphasis Brett Brown and his coaching staff would place on it. If Nerlens Noel can become a 60% free throw shooter in just one year, there's at least hope that they could improve Okafor up to respectability. Okafor's form, follow through, and touch are all poor, but they're no worse than Noel's was when he was at Kentucky.
The second, and far bigger, concern is Okafor's defense. Not even one specific area of his defense, like shot blocking, pick and roll defense, or defensive rebounding. It's all of it, really.
That's probably not fair. Okafor's a solid post defender, with the size to hold his position and a long wingspan to contest shots. But the rest of it, from weakside help defense, to pick and roll defense, to even defensive rebounding, are massive, massive question marks.
A big part of the problem is Okafor just isn't very quick, either laterally or off his feet. He reportedly lost 12 pounds of excess weight since the end of the tournament, and that report came out a few weeks ago at the NBA combine, so he could have lost even more weight at this point. Having seen pictures and video of Okafor, the weight loss looks legitimate.
I've frequently wondered whether simply getting in an NBA strength and conditioning program could improve Okafor in this regard. Could he get into better shape? Could he stay in better shape once he gets there? Could that make him quicker and lighter on his feet? More explosive vertically? If those questions can be answered yes it may solve part of the problem. With a reported 7'5″ wingspan Okafor certainly has some tools to work with defensively if he can improve his quickness.
The bigger problem, however, is Okafor's defensive instincts.
| Player | Steal% | Block% | DBPM |
| --- | --- | --- | --- |
| Jahlil Okafor | 1.5% | 4.5% | 4.1 |
| Karl-Anthony Towns | 1.4% | 11.5% | 10.8 |
| Nerlens Noel | 3.9% | 13.2% | 11.7 |
| Joel Embiid | 2.3% | 11.7% | 10.2 |
| Anthony Bennett | 1.5% | 4.6% | 3.2 |
(stats taken from their last season before entering the NBA).
Okafor is as instinctive of a big man, offensively, as I've ever seen. He reacts to double teams and help defense in a way that a 19 year old shouldn't. It's legitimately a joy to watch, and it's impossible not to wonder how good he could become offensively with 5 years of experience. His feel for the game on that end is impeccable.
On the defensive side it's the exact opposite. He looks like he's constantly thinking out on the court, which leads to decisions that are a second slow. You'll frequently see Okafor anchored to the floor when he's by the rim, unsure of whether to go for the block or position for the rebound, and in the end effectively doing neither. There are plays to be made by Okafor, even with his average quickness and vertical leaping ability, that he leaves on the court because of indecision and hesitation.
Anecdotally, he also looks like he plays the game like he's trying not to foul out. It's almost like, for so long, he's been told "Hey, you're our entire offense. Just stand around the rim defensively, collect a few rebounds, and alter a shot if you can do so safely". Which, at lower levels of basketball, may have been true. His dominance on the offensive end was that profound.
The final concern is his defensive rebounding rate, a rather pedestrian 18.2%. This is especially bad for a player who remained close to the rim defensively, and one who played on an average defensive rebounding team next to a small-ball power forward for much of the year. His technique here was frequently bad, ball watching more than working hard to box his man out. He doesn't really rebound outside of his area all that well, which could be part athletic concerns and part instincts. Great offensive rebounder, mediocre defensively.
How much can you realistically expect defensive instincts to improve? How much can, and will, his decision making improve on that end of the court? That, to me, is the bigger question. Many big men have made a career defensively by being big and rotating well. Marc Gasol isn't exactly an elite athlete, yet he used good rotations and excellent timing to win a Defensive Player of the Year award.
The goal with Okafor isn't to make him Nerlens Noel, or even Karl-Anthony Towns, on the defensive side of the ball. But he can't be a liability, either. Can he become at least average? I legitimately don't know. But if he can, he could be special.
(Even if he does I still don't see him being a good fit, on either side of the court, with Embiid. I think if Okafor gets to "average" defensively, it's at the 5 and using his length to defend around the basket. I find it hard to believe that Okafor won't always be a target in the pick and roll, as the amount he'd have to improve to slow down some of the elite guards in the NBA and recover back to his man makes it difficult for me to envision that happening).
Kristaps Porzingis
One of the things we frequently overrate leading up to the draft is size and strength, as we'll go on and on about how a 19 year old player must get stronger.
No kidding.
6 years later, when a player is hitting his physical prime, he'll end up looking drastically different than he did as a 19 year old kid. It's basic human physiology. We'll then look back on a player and wonder how that ever showed up as a red flag on a scouting report.
Even some of the preeminent defenders of our time, such as Joakim Noah, Tyson Chandler, and Marcus Camby, not to mention the Sixers own Nerlens Noel, had "must get stronger" as a red flag on their scouting report.
Heck, Joakim Noah measured in at 7′, 223 pounds at his pre-draft camp. After his junior season.
But Porzingis is a little bit of an edge case in this regard. At 7'1 and (a reported) 220 pounds, he's very, very skinny, and you haven't seen much literal growth from him in this regard over the years.
Perhaps worse than his measured weight, though, is that it impacts his play. Noah was slight, but he was constantly fighting for position despite his build. Porzingis struggles to hold position down low, he gets pushed off the block and struggles on the defensive glass, and he struggles to finish through contact offensively. Worse, he seems to avoid these situations at times.
We frequently like to label players as "tough" or not, and we frequently conflate whether that is mental toughness or physical toughness. In truth, we don't really know. Could Porzingis' add some muscle, and all of a sudden look to assert himself more, from a physical standpoint, on the basketball court? Certainly. But I don't know if that will absolutely be the case.
If Porzingis doesn't add considerable strength, and doesn't learn to use that strength, there's a very real chance that he becomes a relative one-trick pony offensively, forced to the perimeter more than you would want a 7 footer to be, and wasting one of his potentially unique attributes.
With his size and shooting ability, and thus ability to pull a rim protector away from the basket, you would like to see Porzingis attack the basket more off of the aggressive closeouts he sees, but he frequently settles. You can see the incredible potential he has around the basket when he's playing off the ball, as his length and quickness off his feet make him a frequent lob target. In traffic? Things can get dicey.
Can this be fixed simply by Porzingis physically maturing? Possibly. Perhaps even likely. But do I know it will be? I can't go that far.
The other major concern with Porzingis is his lack of ability as a playmaker. Before posting this article, I made it a point to watch every one of Porzingis' assists this season.
It really wasn't all that big of an undertaking, though, as he only has 27 assists in his 1,072 minutes played this year, an almost unfathomable rate.
| Players | Assists/40 mins | FGA per assist |
| --- | --- | --- |
| Kristaps Porzingis | 1.0 | 15.4 |
| Karl-Anthony Towns | 2.1 | 5.8 |
| Jahlil Okafor | 1.7 | 8.6 |
| Joel Embiid | 2.3 | 4.5 |
| Nerlens Noel | 2.0 | 4.4 |
(Note: stats from their last season before entering the NBA).
Those numbers aren't necessarily representative. Okafor, for instance, had a lot of "hockey assists", using his ability to draw a double team to ignite a chain reaction of defensive rotations that led to easy looks by his teammates. When you start looking at Duke's offensive efficiency when Okafor was doubled in the post and passes out, the effectiveness of his passing, and the frequency with which he does it, jumps out as special.
The assists per field goal attempt is also fundamentally flawed in that it tends to favor low-usage guys.
Still, Porzingis' passing doesn't pass the eye test either. When he gets the ball he either continues to swing the ball on the perimeter or will look for his own offense, almost without question. When he starts an offensive move, it's probably going to end in a Porzingis field goal attempt.
I would expect a player's feel for the game and ability to read a defense to improve as he gains experience, especially for a player like Porzingis who hasn't played major minutes the last few years, and perhaps the inconsistent playing time altered his mindset and made him more eager to prove his worth, which is frequently equated with an ability to score the basketball. But his lack of awareness as a playmaker is an obvious concern, even if his role in the NBA will be as an off the ball scorer.